Events
REGISTRATIONS ARE OPEN: SOCIAL INNOVATION – THE ROLE OF CIVIL SOCIETY ORGANIZATION ONLINE CONFERENCE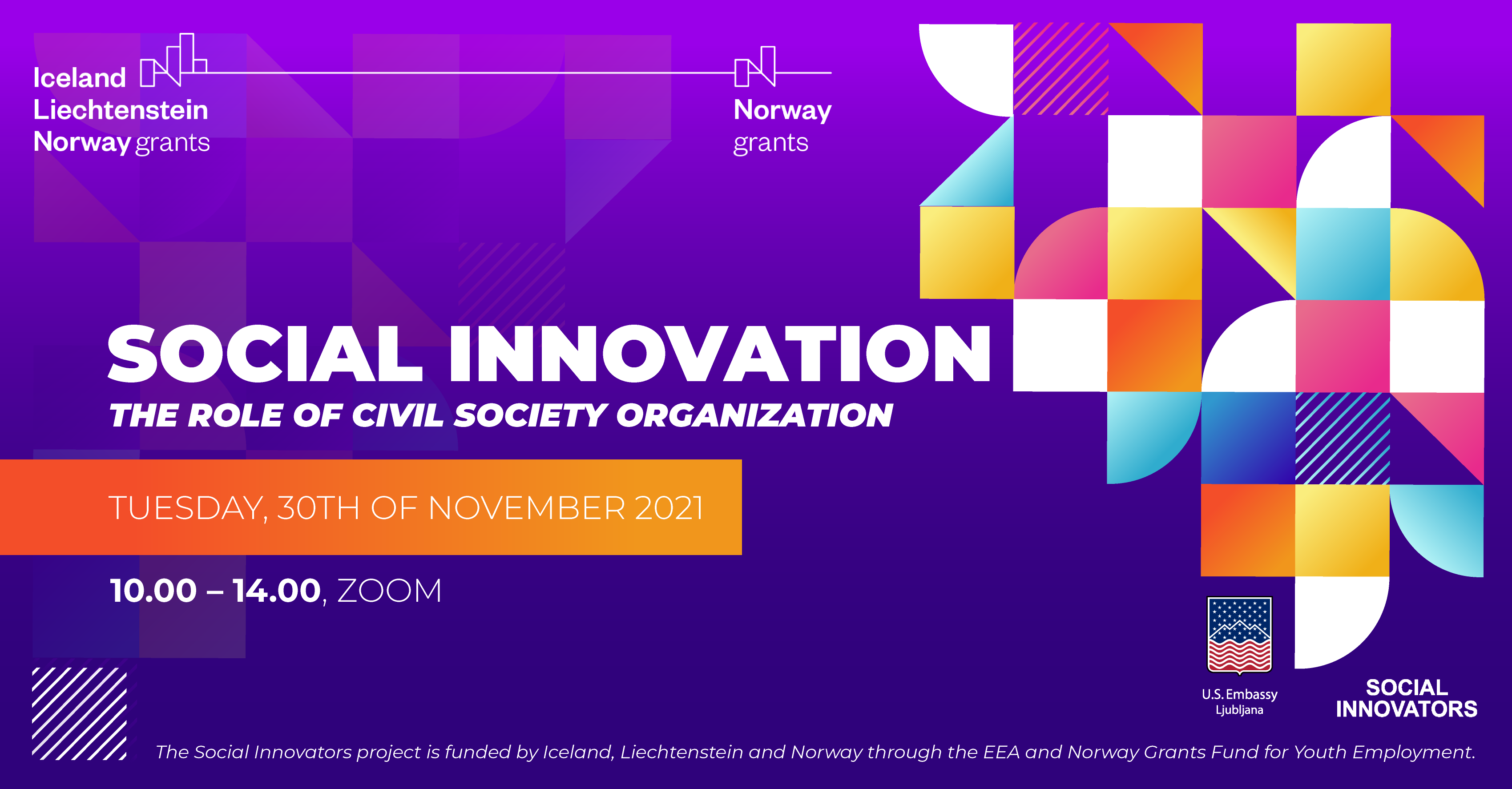 Recent health crisis, the limits of the market and the state to address important social challenges, using conventional wisdom and traditional approaches, global challenges that are first and foremost threats, the need of traditional business to reconnect with society and to adopt more socially accepted behaviours and transition from an industrial to a knowledge and service-based society, call for a change in the way we act.
The complex issues that organizations and sectors are not able to face on their own are accumulating, thereby increasing the need to develop new roles within and between social sectors.
According to the OECD The Innovation Imperative, new sources of growth are urgently needed to help the world move to a stronger, more inclusive and sustainable growth path. Social innovations have therefore become attractive to policy-makers and are a key element of the European vision for future decades.
Social innovation does not belong to any particular actor or sector. Rather, it can occur in all, and especially in overlapping sectors.
INTRO (10.00 – 10.30)
Video (Social Innovators Project)

Welcome speech (EEA and Norway Grants Fund, Gian Luca Bombarda, Fund Director)
Welcome speech (American Embassy Ljubljana, Susan Falatko, Charge d'Affaires)
INSIGHTS (10.30 – 12.00): CSOs as social innovators and supporters of social innovation 
10.30 – 11.00 Field insight: Geoff Mulgan, Professor of Collective Intelligence, Public Policy and Social Innovation at University College London
11.00 – 11.30 Policy insight: Philippe Martin, Leader, Social Innovation Matrix, European Commission, Research & Innovation Directorate General
11.30-12.00 Research insight: Austin Choi-Fitzpatrick, Carr Technology and Human Rights Fellow at Harvard Kennedy School and University Professor at University of San Diego, Kroc School
LABORATORIES (12.15 – 13.30): Social innovation and CSO in practice
Laboratory 1: Circular change
Good practice 1: Locavore – an educationally sustainable platform for encouraging agriculture, production and protection of labels of origin (Terra Fertile d.o.o, Croatia)
Good practice 2: COLLECTIVE PLACEMAKING (The Collective Foundation, Bulgaria)
Panelists:
Panel led by Ladeja Godina Košir, Founder & Executive Director of Circular Change
Narrator: Nena Bibica, PiNA
Rapporteur: Maja Drobne, PiNA
Laboratory 2: Human rights frontier
Good practice 1: Barabar (Infinite Opportunities Association, Bulgaria)
Good practice 2: SOCIAL ATELIER (DKolektiv, Croatia)
Panelists:
Panel led by Ivan Novosel,

Director of Programs at Human Rights House Zagreb

Narrator: Nevena Balažević, YIHR
Rapporteur: Ana Gvozdić, YIHR
Laboratory 3: Future of education
Good practice 1:Monety – educational game for financial literacy for kids 7+ years old (Monety Academy, Bulgaria)
Good practice 2: Make fabrication, engineering and practical education accessible to a wider audience (Resonator Co-innovation hub, Bulgaria)
Panelists:
Panel led by

Viliana Dzhartova, Co-Founder of ReImagined Futures – a systems change collective
Narrator and Rapporteur: Veneta Kuyova, NMS
OUTRO (13.30 – 14.00)
Reporting on laboratory work

Closing words
As the number of places is limited, we kindly invite you to register at the link below. You can register until Monday, November 29, 2021.
The online conference is organized within the Social Innovators project, which is funded by Iceland, Liechtenstein and Norway through the EEA and Norway Grants Fund for Youth Employment. The conference is co-funded by the US Embassy in Slovenia.