Notifications
A NEW EDITION OF SUMMER SCHOOL THAT EXPLORES THE CONCEPT OF PARAINTELLIGENCE THROUGH MERGE OF DESIGN AND SCIENCE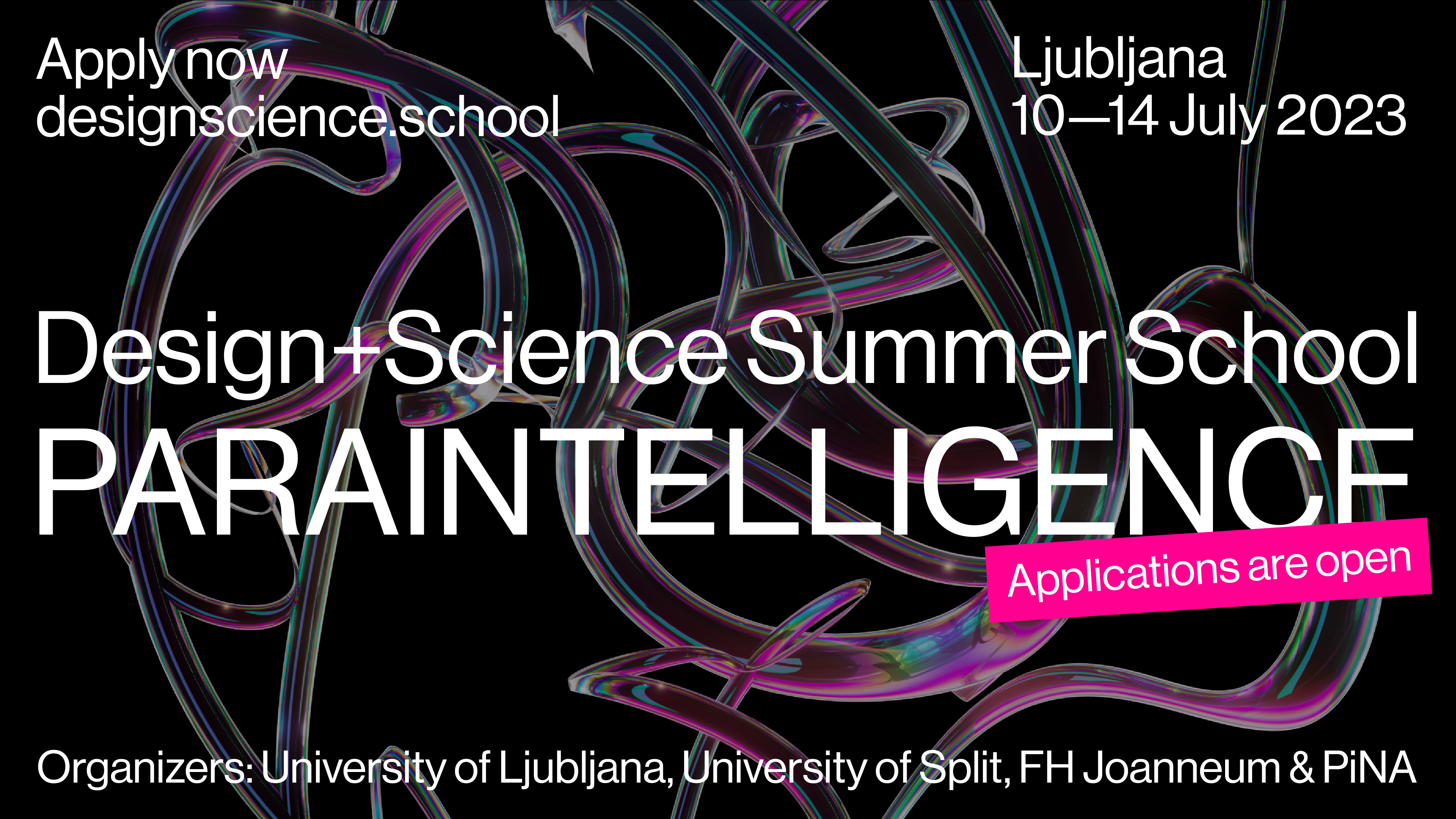 PiNA, together with the University of Ljubljana, Faculty of Design Split and Institute FH Joanneum of the University of Applied sciences Graz, is organizing a third edition of Design+Science Summer School.
From 10th to 14th of July 2023 in Ljubljana, we will gather 21 participants from all over the world to explore the topic of Paraintelligence. 
The term "para" means "beyond" or "beside" and, in the context of intelligence, refers to a type of intelligence that exists beyond what is traditionally recognized as intelligence, including notions such as intuition, creativity, and emotional intelligence that are often overlooked in traditional definitions of intelligence. Artificial intelligence, on the other hand, refers to the intelligence displayed by machines that have been programmed to simulate human cognitive functions such as learning, reasoning, and problem-solving. When we think of intelligence, we usually think of anthropocentric cognitive abilities such as problem-solving, logic, and reasoning. However, intelligence is actually a complex and multifaceted concept that goes beyond these cognitive abilities. For example, fungi, such as the slime mold Physarum polycephalum, also exhibit intelligent behaviors such as navigation, memory, and adaptation.
Through a combination of lectures, discussions, and hands-on activities, this year we aim to redefine the definition of intelligence in order to understand and predict how it will evolve and what the consequences will be for human and non-human beings on this planet.
Boštjan Botas Kenda, the creative director of the Summer School presented this year's idea: "We are looking forward to the third edition of the Summer School, especially as we are entering the experience phase. We have set up and launched this type of summer school because we believe that a modern education system needs relaxed and dynamic ways of transferring knowledge. We are successful because we bring together institutions, individuals and diverse scientific and artistic disciplines. And thanks to our comments and assessments before, during and after the event, we create a common ground for progress. Isn't that intelligent? Goethe says: 'All wise thoughts have already been thought; what is necessary is only to try to think them again.'"
Borut Jerman, the leader of the RUK project at PiNA continued "The Design+Science summer school is an important activity within the RUK network, as it connects several stakeholders and approaches in an innovative way – the academic sphere with non-governmental, scientific research and design, art and science. This year's theme Intelligence is often perceived as a purely human characteristic. But the definition itself – the ability to acquire and apply knowledge and skills – suggests that intelligence can be much more than that. This notion is all the more absurd in an environment where we are surrounded by living and non-living intelligent beings. Participants will be tasked to examine intelligence from different perspectives and to reflect on the deconstruction of the anthropocentricity of intelligence."
The applications are now open till the 2nd of June 2023.  Follow designscience.school for more information or contact us at design.science@aluo.uni-lj.si.